Nestled in the scenic terrains of Pennsylvania, Warren offers a blend of rich history and natural splendor. Founded in 1795, it's not just a city, but a treasure trove of cultural, architectural, and natural attractions.
Dive into the mesmerizing experiences that await in the pristine landscapes and historically rich streets of this captivating city.
The Historical Essence of Warren

Warren, established in 1795 and distinguished for its dedication to General Joseph Warren, has evolved as a significant hub for travelers and nature enthusiasts. It's recognized as the introduction to the Allegheny National Forest, enveloping visitors in a world where nature and architecture coalesce seamlessly. The city unveils a panorama of architectural grandeur reflected in over 600 historic buildings strewn across its 28-block-long historical district, narrating tales of a bygone era while showcasing intricate designs and ancient artistry.
The extensive range of parks, covering approximately 180 acres, is a testament to Warren's commitment to offering diverse recreational and leisure options. Each park unfolds a unique narrative of beauty and tranquility, fostering an environment where visitors can immerse themselves in serene landscapes, recreational activities, and the rejuvenating embrace of nature.
Kinzua Dam – A Marvel of Engineering

Kinzua Dam, gracefully seated within the confines of Allegheny National Forest, isn't just a dam but an epitome of architectural prowess and natural allure. Constructed in 1965, the dam's mixed concrete-earth design has been a focal point of interest, inviting guests to marvel at its magnificence and the serene atmosphere that surrounds it. It was originally built to mitigate flooding in the Ohio River Valley, thereby safeguarding Pittsburgh.
The dam's surrounding landscape, embellished with panoramic views and hidden spots of intrigue along the highway, offers a picturesque backdrop for leisure walks and exploration. For families, it provides a serene yet engaging environment where children can bask in nature's charm, establishing it as a popular destination for family outings.
Rimrock Overlook – Nature's Spectacle

At Rimrock Overlook, nature unveils its majestic artistry. Situated in Bradford, perched upon large boulders, it presents an awe-inspiring view of Kinzua Bay. A mere 2-3 minutes' walk from the parking area introduces travelers to a world where scenic beauty reigns supreme.
Rimrock is not just about the views; it's an encounter with nature. The trails, adorned with an eclectic mix of rocks, mountain laurel, and diverse flora, are a haven for nature enthusiasts. Every step reveals another aspect of nature's unrivaled creativity, making it a preferred destination for those seeking an escape into nature's tranquil realms.
Jakes Rock Overlook – A Hiker's Paradise

In the vicinity of Clarendon, Pennsylvania, Jakes Rock Overlook awaits with its 2.3-km loop trail that is a sanctuary for hikers and nature lovers. Featuring a river and accessible to varying skill levels, it is synonymous with accessibility and natural beauty.
The trail is a montage of nature's exquisite elements, presenting spellbinding views of diverse rock formations and lush greenery. From March to October, the pathway becomes a visual narrative of nature's seasonal transformations, offering a fresh and invigorating experience with every visit.
Hearts Content Scenic Area – A Retreat into Tranquility

Fifteen miles southwest of the city center, the Hearts Content Scenic Area extends an invitation to a world where nature's serenity and majestic old-growth forests reign. Spanning over 122 acres within the Allegheny National Forest, it showcases tall white pines and eastern hemlocks spread across 20 acres, offering a tranquil retreat.
Although camping within the scenic area is restricted, nearby camping grounds present opportunities for nocturnal adventures under the starlit sky. The intertwining trails, the whispering leaves, and the tranquil ambiance combine to make every visit a rejuvenating experience.
Longhouse National Scenic Byway – A Journey through Nature

The Longhouse National Scenic Byway, near Bradford, is not just a trail but a journey through the enchanting northern hardwoods of the Allegheny. Spanning 47.5 kilometers, this loop trail is a visual narration of the reservoir, bridges, and skies adorned with wildflowers.
Every curve of the byway is a frame capturing the allure of oak and black cherry trees, painting a picture of nature's grandeur. The route isn't merely a drive but an exploration where nature unveils its myriad facets, presenting a dynamic canvas of scenic beauty and natural elegance.
Warren, PA, with its rich tapestry of cultural heritage, architectural magnificence, and natural wonders, is a destination where every corner is a story and every view, a masterpiece.
Whether it's the historical edifices echoing the architectural prowess of yesteryears, or the pristine landscapes narrating tales of nature's splendor, Warren promises an experience that transcends the ordinary, inviting visitors into a world where history, culture, and nature converge in a symphonic celebration of beauty and legacy. Every visit is an opportunity to weave unforgettable memories amidst the city's historical and natural grandeur.
Warren County Visitors Bureau

Positioned along US 6, the Warren County Visitors Bureau stands as an essential resource for travelers and explorers. It's not just a visitors' center but a gateway to the diverse attractions and activities that the city offers.
Why You Should Go

A journey to Warren is made complete with a stop at this informative hub. Regardless of the weather conditions, be it a sunny day or during the rainy seasons, this center offers an indoor haven where guests can gather insights, enhancing their exploration experience. It is crucial for those keen on optimizing their travel itinerary to explore every facet of the city's charm.
What to Do

Visitors are greeted by amicable staff, well-versed in the city's attractions, ready to offer customized advice based on individual preferences. An assortment of maps and brochures are at the disposal of the guests, each detailing unique attractions, upcoming events, and tips to navigate the city. The Bureau is more than an informational center; it's a preview to the city's rich cultural, historical, and recreational offerings.
Activities and Resources

Here, explorers are acquainted with:
A comprehensive map detailing routes to various attractions
Brochures offering insights on cultural sites, historical landmarks, and recreational areas
Updates on upcoming events and festivals, enabling visitors to align their schedules
Expert advice on accommodations, dining options, and transport services
This center serves as a comprehensive resource, particularly beneficial for first-time travelers, ensuring that no significant attraction or event is overlooked. Each visit is tailored to be an individual experience, with resources and advice customized to meet diverse interests and expectations.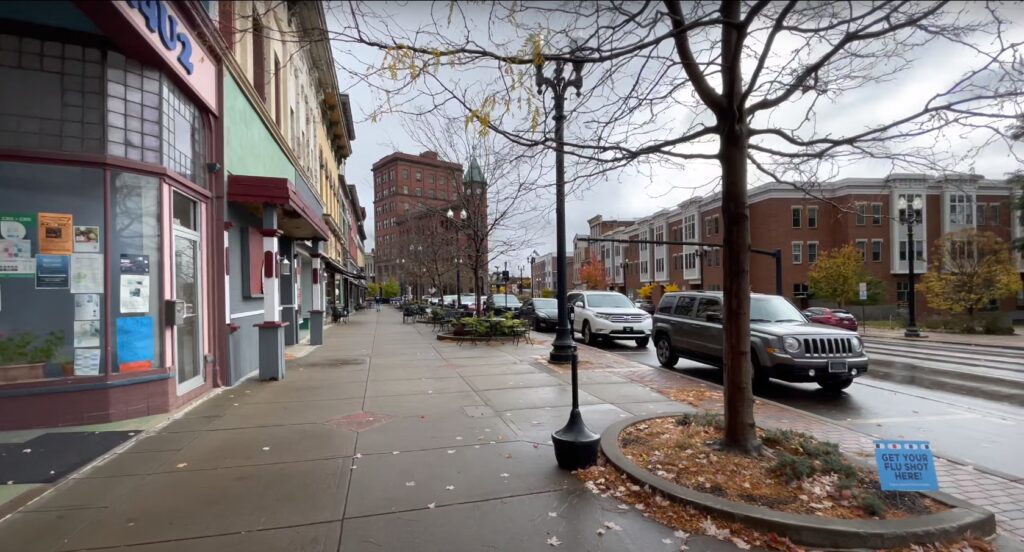 Warren County Historical Society – Warren Historic District

Nestled within the Warren Historic District, the Warren County Historical Society is more than a repository of ancient artifacts. It's a narrative of the evolution, milestones, and the cultural fabric that defines Warren County.
Why You Should Go

The grandeur of the historic mansion, featuring exhibits such as a Victorian parlor and an 1800s store, is a step back in time. The society's extensive collection offers an immersive experience into the county's past, providing insights into the lives, cultures, and the evolution of this iconic destination.
What to Do

During special events like Halloween, the Haunted House & Trolley Tours offer an exhilarating exploration of the Struthers-Wetmore-Schimmelfeng House's ominous corners. The tour melds history with mystery, providing an exciting twist to the conventional historical exploration.
Exhibitions and Collections

Guests can indulge in:
A comprehensive genealogy database unveiling the ancestral roots and familial connections spanning generations
Intricately designed Victorian parlors reflecting the architectural and artistic prowess of the era
A glimpse into commerce and trade through the lens of an 1800s store exhibit
The Warren Historic District stands as a testament to the county's rich historical legacy, drawing history enthusiasts, researchers, and curious minds keen on unraveling the threads of the past that weave into the present.
Kinzua Wolf Run Marina

Positioned by the serene Allegheny Reservoir, Kinzua Wolf Run Marina isn't just a boating hub; it's a sanctuary of tranquility and recreation.
Why You Should Go

For those seeking a retreat into a serene environment where the gentle ripples of water complement the scenic views, the marina is a haven. It's not just about boating; it's about experiencing the harmonious convergence of nature and leisure.
What to Do

Dine at Docksiders, savoring the flavors of sumptuous meals as live music performances set the ambiance every Sunday. With 250 boat slips and comprehensive boating services, it's an aquatic paradise for boating aficionados.
Amenities and Offerings

Guests can enjoy:
A variety of boat rentals, equipped for both leisure and fishing expeditions
A selection of fishing gear and accessories ensuring a rewarding fishing experience
Sumptuous culinary delights served with scenic views at Docksiders
Kinzua Wolf Run Marina epitomizes the blend of relaxation and recreation, offering a holistic experience that caters to diverse preferences and interests.
Yogi Bear's Jellystone Park

In Mill Run, PA, Yogi Bear's Jellystone Park is not just a camping site, but a world of fun, adventure, and excitement tailored for the entire family.
Why You Should Go

The summer experience is redefined here. Beyond the camping and cabins, a plethora of activities await young explorers and adults alike. It's a space where laughter, fun, and adventure converge, offering an unforgettable experience.
What to Do

Engage in a plethora of activities including a 4×4 Adventure Ride or the snowless snow tubing in the Laurel Highlands. During summer, the Wetlands become a hub of aquatic fun, featuring games like Water Wars that add a thrilling twist to the conventional water activities.
Attractions and Activities

Among the offerings are:
A mining sluice that merges learning with fun, unveiling the miner's experience
A paintball and laser tag area where strategy, fun, and excitement meet
A carousel and jumping pad designed to offer kids endless hours of fun and excitement
Yogi Bear's Jellystone Park stands as a testament to family-oriented recreation, where every activity is designed to foster bonds, create memories, and offer an unrivaled experience in the heart of nature's beauty.
Mount Pleasant of Edinboro
Mount Pleasant of Edinboro, ensconced in the renowned "Snow Country" region of northwestern Pennsylvania, emerges as a haven for snow enthusiasts. It's where the chill of winter intertwines with the thrill of various snow-bound activities.
Why You Should Go

The allure of this haven isn't just its pristine snow-laden landscapes but the diversity of experiences it offers. Though compact in size, it is brimming with engaging activities suitable for families, couples, and solo travelers. It's a space where each slope and trail is an invitation to explore, to feel the exhilaration of the cold wind against your face as you glide down the inclines.
What to Do

At Mount Pleasant, every slope is a new adventure. Guests can engage in snow tubing, a thrilling experience complemented by the scenic beauty of the surrounding landscapes. The skiing trails are crafted for various skill levels, offering both novices and experienced skiers an exhilarating journey down the snow-covered terrains.
Amenities and Offerings:

A diverse range of slopes catering to different skill levels, from beginners to experts
Snow tubing trails designed for maximum thrill and safety
A cozy restaurant offering a warm retreat with a fireplace, where guests can savor delicious meals after a day out in the snow
Professional instructors available for those keen on honing their skiing skills
While it's situated a bit away from Warren, the drive to Cambridge Springs unveils scenic views, making the journey to Mount Pleasant as enchanting as the destination itself.
Conclusion
In wrapping up this detailed overview of attractions and activities in and around Warren, it becomes evident that this locale is a microcosm of diverse experiences. From the invigorating winter adventures at Mount Pleasant of Edinboro to the serene beauty of the Kinzua Wolf Run Marina, every attraction offers a distinct flavor of enjoyment and discovery.
The cultural and historical richness of the area is palpable, with establishments like the Warren County Historical Society serving as portals to a bygone era, allowing guests to traverse time and relive the moments that have shaped the present-day character of the region. Meanwhile, modern attractions like Yogi Bear's Jellystone Park embody the evolution of leisure, offering a blend of fun, adventure, and relaxation that caters to every member of the family.
The outdoor recreational parks and walking trails underscore the city's commitment to fostering a harmonious coexistence with nature. They offer respite, recreation, and an opportunity to connect with the natural world, further enriching the visitor's experience.
Every restaurant and dining establishment stands as a testament to the city's culinary diversity, offering a melange of flavors that cater to both traditional and international tastes.
In essence, a sojourn to Warren and its environs is more than a physical journey; it's an exploration of diverse experiences, a melding of histories, cultures, and natural wonders. It's a destination where every visitor is poised to craft a unique narrative of discovery, enjoyment, and appreciation of a locale where the past, present, and future converge in a harmonious dance of attractions and activities. Each visit promises not just memories but a rich tapestry of experiences that beckon travelers to return, to explore deeper, and to become part of the city's unfolding narrative.